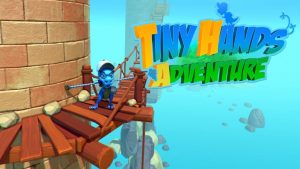 There's this spot on my back that is constantly itchy. This specific spot is also in a place that no matter how I go about it, I can't scratch it. I'm sure many of you can relate. Weird fact about me, but I think this is why I feel so much for the main character of our next title. It's Tiny Hands Adventure by Blue Sunset Games. In this casual 3D platformer adventure, you play as a cute little T-Rex on the search for new non-tiny hands. T-Rexes are known for their giant bodies but tiny arms. I bet they can commiserate with the itchy back problems we have. This is another game that brings back a lot of memories of Crash Bandicoot and those other classic 90s PlayStation original games. So if you're a fan of those nearly retro games, you'll be excited to try this one out.
Gameplay in Tiny Hands Adventure
You play as this adorable little dinosaur named Borti. Borti is a cool little guy who is happy in his life in Dinoburg. He has lots of friends and plays soccer at school. He seems to have a good life, at least for a dinosaur with no incoming comets on the horizon. However, there is one thing that Borti wants more than anything else in the world: longer arms. With long arms, he'd be unstoppable. So he goes out on an adventure to search for new arms.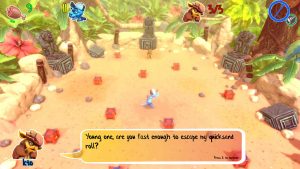 You visit different worlds with new maps and mechanics to deal with as you find different items and face bosses in battle. Weapons are made from items picked up in the world. For example, you start out defending yourself with a stick, but you will also find more complicated weapons and items as you get further in the world. At one point you find even a drill and mechanical arms. All of these things can be used in different puzzles to help you collect more items and make it through the different platforms towards your ultimate goal.
Boss battles are also pretty unique and fun. For a casual game, there are still some challenges when it comes to meeting foes and going forward in the game.
Game Esthetics
I love the way this game looks. The artwork is a callback to the 90s classic games but updated. You will find something to love in each world, which is each uniquely created with different themes. From ice to water and jungle to a giant factory, our buddy sees a lot of the world. There are amazing details in every level. The soundtrack is also similar to those 90 titles we all love and adds to the overall feel of the game.
Should I Play Tiny Hands Adventure?
If you love classic PlayStation era games and cute stories with dinosaurs, then definitely. I had a lot of fun with Tiny Hands Adventure, and I think it deserves a little more recognition than it has had so far. You can take a look at the game on Steam for Windows and on Nintendo Switch now. It is set to release for PS4 and Xbox One in December this year.
For more new releases on indie games, subscribe to Indie Pearls.