Have you ever heard: murdered by a carrot? Every single thing around is an accessory to kill! Death is looming around every corner! Yes, here we are about yet another fast-paced hyper-action one-hit-kill upcoming indie title Bloodroots. This game by PaperCult is all about revenge and bloodbath. Are you ready to see slashing swords, swirling axes, and crushed skulls? And are you brave enough to see this kind of ultraviolence? If so, then you are going to love this one.
The Story of Bloodroots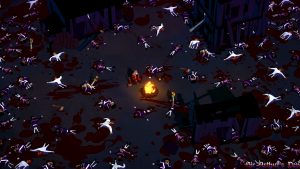 In the Weird West, you play as Mr. Wolf, a lumberjack, who was betrayed and left for dead. Rage and wrath are his only friends against all the odds. Lonely Mr. Wolf has only one choice to make: kill or die an agonizing death. He picks up every lying thing to devastate his foes with all the agility left in his body to survive. Creating a bloodbath on the way and finding the foes that set such dire circumstances for him is his only wish.
Game Design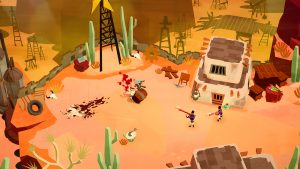 You are in the quest of finding Mr. Black Wolf in the swift environment of this one-hit-kill game. Ruthless Mr. Wolf can jump, attack and pick up almost everything on his way to kill his enemies, but can only take one hit to fall. While controlling the merciless protagonist, you can pick up from deadly weapons like axes to funny things like carrot or rubber duck to kill. Mr. Wolf has a wide variety of weapons of choice. For instance, you are often rolling a barrel towards the goons pulverizing them, making a helicopter out of a ladder and slashing bodies into two of the antagonists with swords. It is all about feeding his hunger for killing.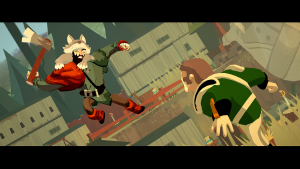 On the other hand, every weapon you use is durable according to its nature. Reliable weapons like axes can blow three hits while carrots, being squashy, can take only one hit. Besides that, you can see brutal scenes like crushing a skull throughout the brawl against his foes. 
To sum up. You can play the story of Mr. Wolf while improvising and adapting different combos to top the scoreboard and beat the world in the blood-filled environment of the game.
When will Bloodroots be released?
This is all we can share about the bloody tale of Mr. Wolf for now. Although Bloodroots' website still says the game is due in summer 2019, they mentioned on social media that a release in that time frame comes a little too soon. Perhaps in fall, just keep an eye on it. In any case, you can subscribe on the website to play the demo already. You will be able to play the full game for Windows, available on Steam, which you can now add to your wishlist. The game will also be available for Nintendo Switch, and Playstation 4.