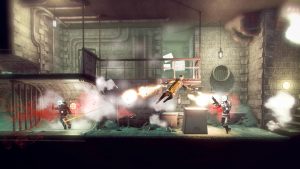 My Friend Pedro is a 2d side-scrolling shoot-em-up style action game by DeadToast Entertainment. The mind-melting acrobatic action and craziness is all this game is about. A silent killer with an imaginary banana as a friend is wreaking havoc on the foes. Let's start the blood, bullets and bananas.
Story of My Friend Pedro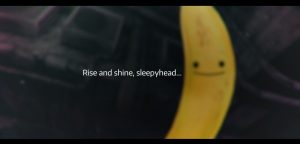 The weird story of the game starts as you wake up as a masked protagonist in a mysterious dark basement with no memory of the past. The silent protagonist wakes up and sees the hallucinatory banana Pedro, who claims to be friends with him and woes to get him out of this tricky situation. The bond of this schizophrenic friendship between both of them starts from the basement, where the banana guides him through the first chapter. Pedro warns him about the 'Mitch the Butcher' and his illegal activities while training the protagonist to become a killing machine. I will not spoil the story and fun of the game; I'll leave it here for you to explore it further.
Game Design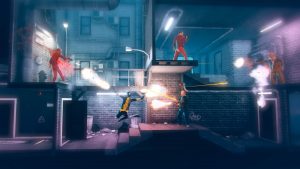 My Friend Pedro is an epitome of side-scrolling action and the commands of a banana. The game offers tons of self inventive stunts and action while obeying the laws of physics. Your character can do various stunts like sidewall jumps, spin to dodge bullets, roll, kick and do 360 degree flips while shooting foes to shreds. The developers also added slow-mo into the game to make things more flashy, and the interaction with environmental objects make it super stylish. Most interestingly, you can maneuver on a drum to crush the enemy lines, while throwing frying pans up in the air and ricochet bullets off of them to show off your shooting skills.
The playtime of the game is 4 to 5 hours as it consists of 5 story chapters. The total number of levels is 40.  Performing better combos and killing in style will lead to the top of the scoreboard.  In the background you hear a beat of techno music to push you to the limits. All these elements make the game good value for money.
Dialogue
The dialogue in My Friend Pedro is no more than comic styled text boxes. However, most of the starting dialogues are instructional between Pedro and the protagonist. During Pedro's speech, you'll hear some weird techno murmurs in the background. Besides that, you will see some textual hate speech by the goons and goons talking with each other.
As the game progresses, a set of different bosses will appear.  Therefore, you'll see the same textual one-sided conversations, as the portrayal of the protagonist is a silent killer.
My Friend Pedro is available on Windows, Mac, and Linux through Steam and also for Nintendo Switch.