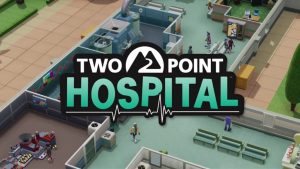 If you've ever wanted to be your own Cuddy or Kelso to your own hospital, this sounds like the game for you. We bring you Two Point Hospital by Two Point Studios, where you are the administrator of hospitals all around the Two Point area. This management simulation game lets you build and manage hospitals with a ton of tongue-in-cheek humor. You hire your own staff and also train and manage them to cure silly and weird diseases. It's your job to keep things running smoothly and level up your hospitals along the way. Healthcare has never been so fun.
Gameplay Premise in Two Point Hospital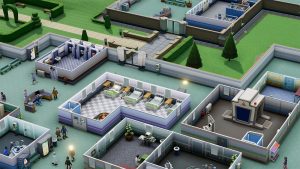 This one is a lot like other simulation games where you have to build, hire, and manage an enterprise. But instead of doing this on a ship, or a prison, or any number of settings in this genre, you are in charge of a chain of hospitals. So, you need to manage the actual buildings, rooms, and equipment, but also the staff and patients. For your staff, you can train them and build their overall morale. It's important to keep them happy, but also to keep their skills up. Over time, you'll be able to promote them and with those promotions comes perks. You also have to also keep the patient's happiness up, and make sure that you have enough staff for them. There are a ton of tools to use to manipulate the way patents are cared for and ultimately how successful the hospital is.
It's a little overwhelming at first, but there's plenty of hints and hand-holding in the beginning to set you on your way.
Quests and Leveling Up
You have a lot of objectives to fulfill while you're playing the game. Your main goal is to level up that hospital and get all the sweet sweet cash. Oh right, also to like cure people. That seems important too. But in order to get rich (with the wonderful feeling of curing the ill) you need to be able to raise up your hospital level while simultaneously keeping your reputation up. Maintaining and managing your staff and patients helps, but that's just the start. Luckily, there is a list of objectives to help you stay on track. You can also complete quests as they come into your mailbox, and gain buffs, extra items, and points towards luxury items. The objectives are easy to manage as you work on building up hospitals and curing patients.
Theme and Esthetics
This game is actually really cute. I like the cartoon style of the characters, and the user interface is attractive and easy to navigate. More than that though, the game is pretty funny. Characters have silly names and the actual diseases you encounter are at the very least chuckle worthy. One of the first diseases I saw was  Lightheadedness, where people came in with light bulbs instead of heads. I do love a good pun though.
Where Can I Get it?
Two Point Hospital is out now on for Windows, Mac, and Linux on Steam, or you can buy it directly from their website.
If you'd like to hear more about new indie games hitting the scene, make sure you subscribe to Indie Pearls or follow us on Facebook or Twitter!