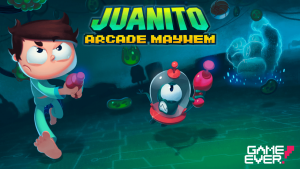 Juanito Arcade Mayhem from Game Ever Studios came out in early August of 2018. This casual arcade style action game is the retro gaming experience we have been searching for. A story-based world-hopping experience, Juanito Arcade Mayhem hops players from one retro arcade world to the next. It scratches that itch for Space invaders and Donkey Kong in one fun and adorable alien invasion adventure.
The Story of Juanito Arcade Mayhem
Play as a young pajama clad boy, Juanito, as he tries to save the world from a terrible alien invasion through a series of infected retro arcade games. Fight bosses through over 80 different levels which also use the mechanics of eight of your favorite classic arcade games. The gameplay mimics that feeling of jumping from one arcade game to the next as you traverse different worlds and fight different bosses. As you gain power, you're also able to fight with an arsenal of different weapons, and useful upgrades and power-ups.
Gameplay
The gameplay is addictive, especially for anyone who has fond memories of those arcade games. It's hard to put the game down. And even though the game is definitely a casual style, the bosses and levels are still challenging for any gamer. Players can also compete on in-game leaderboards with 12 different rankings to work towards.
Style and Theme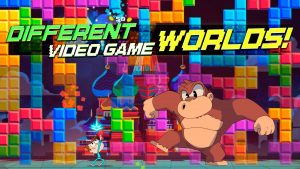 The art style and direction of the game is also very appealing. The characters have a great cartoon style reminiscent of any Saturday morning from the 90s. The backgrounds, user interface, and even the art assets match the feel of the game.  Even more, it's just fun to look at. The look and feel of the game all add to the overall fun of the gameplay because this one is fun for the whole family.
Fun for Everyone
That's also another great feature of Juanito Arcade Mayhem: it is a family friendly game. Those of us who remember these classic arcade games as kids can now bring them to our children to enjoy for a whole new generation. That is if we can stand to give up the game long enough to let them play, but luckily for us, that's why this game is available on so many platforms. Get it on Steam for PC, iOS, and Android. And for those of us without kids, that means you can play it at home, at work, and anywhere else you might have the urge to beat some aliens.
If you want something to remind you of those old Friday nights spent in the arcade, check out Juanito Arcade Mayhem. Beat aliens and save the world with this action story-based casual game. This is probably the most fun we've had with a casual game in a long time. It is available now on Steam, iTunes, and Google Play. If you can beat the final boss, let us know! And for more games like this, subscribe to Indie Pearls.