Dead Cells is a Metroidvania inspired, rogue-like, action platformer from Motion Twin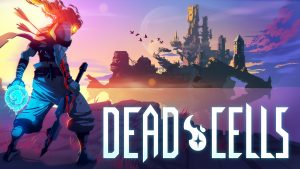 . Climb your way through dungeons, finding new items and beating new enemies as you do. This game is a lot of fun, but it is one hell of a challenge too. I can attest to sinking far too much time into this one and dying way too much. It feels like a lot of these similar games, but the mechanics all mesh together to create an entirely different experience. Dead Cells has a lot to offer in one little package.
Dead Cells Gameplay
I wasn't sure if I was a masochist, but then I found myself playing Dead Cells. This game is a rogue-like dungeon platformer, so it's pretty easy to just pick up and play. However, it is definitely more than meets the eye. You play as an undead headless warrior, with a magical flame where your head should be. The creepy gatekeeper at the beginning seems to know who you are, but they inform you that you can no longer die. You enter the dungeon and go through killing the venerable cornucopia of enemies while picking up as many new weapons and powers as you can. As you kill enemies, you pick up cells, and when you die, you lose them.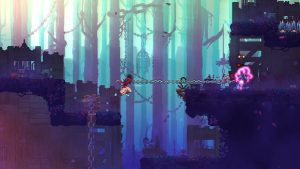 Dying results in starting back in the beginning and being reborn into a new body. It doesn't take long to die, especially if you are me. The dungeons change each time you die, and you uncover more as you get further into the dungeon. There are several enemies to beat who challenge you in different ways. It keeps you on your toes as you move further, knowing you'll meet a new enemy and have to find a new tactic to kill them. The game rewards you for dying unlocking new levels and helping you to get further to bosses. That's how each death, while frustrating, pushed me to just keep going. I felt like I was the worse at this one, but after the third death, I didn't mind the grueling punishment of death anymore.
Look and Theme
This game is beautiful to look at. The backgrounds are amazing with bright colors and great views. Even the characters are pretty, especially for the simple design. There is a bit of humor in the game, calling each death a bummer, and the characters have a sort of humorous tone to their speech. The music is awesome and the animation is seamless, with a great use of heaviness and strength as you attack. It makes you feel powerful as you hack and slash through dungeons.
Should I Buy Dead Cells?
Yes. Okay, like if you don't like platformers, and you don't want to sink like a thousand hours into a Metroidvania rogue-like, this might not be for you. But in my opinion, Dead Cells is just so much fun. It's hard to stop playing, and it builds with your skill level as you play, making it all the more challenging and satisfying to play.
You can find Dead Cells for PS4. Xbox One, Nintendo Switch, and Windows, Mac, and Linux on Steam and GOG.