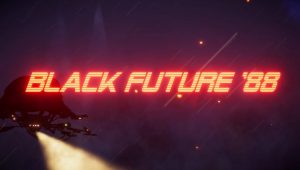 Recently I was scrolling through Steam looking for some new indie games; I found a gem of a game from developers SuperScarySnakes titled Black Future '88… Wow! This game is a true cyberpunk, rogue-like platformer, set in a stylish retro-futuristic world. Although it's not released yet, this has the makings to be a game of the ages. Maybe it's just me but plasma guns and neon lights draw me in like a magpie!
The Story Behind Black Future '88
Black Future '88 is set in an alternate version of the 80s fuelled by drugs, neon lights, and synth-punk music. A series of nuclear bombs hit the world in the summer of 1988, stopping all calendars. A man called Duncan is the person responsible for the Armageddon. It's your job to battle your way to the top of the ever-evolving procedural tower and reach Duncan. No one keeps time anymore. Time is now measured in "minutes left to live".
Gameplay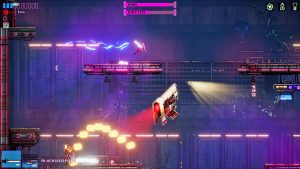 At the start of the game, you get to choose one of five characters. Each one has his own buffs and weaknesses.
You can play either one or two players and it's your job to work your way through five zones to get the chance to kill Duncan. But there's a problem: you only have 18 minutes to do so before the heart of the characters explode. If this happens, it's back to the beginning and you start again.
From the start, there is an onslaught of fire, lasers, and slashes which you must fight through in order to reach the top of the tower… Fun, right?
The game's visual effects are if nothing completely stunning, the lights and fog certainly add to the theatrical nature of the game. And my God, the synth-punk soundtrack from Tremor Low is fantastic, giving the whole game a great atmosphere.
It features 50 unique weapons which are available during the game and each one has their own unique effects.
During the game, there are subtle little effects, like the background darkening when unloading on your enemies. This added with the flashing neon lights and plasma guns going off gives the whole game a good feel.
Overall
This game is due to come out later this year and it looks like a banger. I'm sure gamers will love to get their teeth stuck into the full game. There seems to be so much potential in it, that I just can't see it being a flop. It has that "just one more go" feeling to it. Add this to the blistering fast action of the game, I can't see what is not to like.
I loved to have the two player mode in the game, although it does make it significantly harder during the run through. Usually ending up with arguments with who messed up. But overall I can see there being hours worth of fun.
Black Future '88 is out for release on PC for customers in 2018. Take a look on Steam and check out the trailer, it looks truly amazing.
For more indie titles, as well as more exclusive content and community interaction, subscribe to the Indie Pearls weekly newsletter or follow us on Facebook or Twitter!