Today we are looking at Need to Know by Monomyth Games.  They released it on August 23rd, but it actually started out as a Kickstarter with over 4,000 backers. In this mass surveillance story-based adventure game, you play as an agent for a worldwide surveillance company. It is your job to watch the world and find threats to safety by invading texts and emails, their banking, and even watching them. Players then have to carefully invade the privacy of citizens and choose how to use the information they find. Creepy, right? But I think that's what's interesting about this title. Let's take a deeper look at Need to Know.
Need to Know Gameplay
You are working for the Department of Liberty to try to find threats to safety around the world. You do this by intercepting communications, but you can also watch people from surveillance cameras, and get into their work history and even their banking. It is creepy, and maybe just a little too real right now. While spying on these probably innocent citizens, you can chose to use the information you gather to either help yourself or to leak to rogue agencies. And if you get caught, you can always flee to Russia. Just kidding, that probably doesn't happen.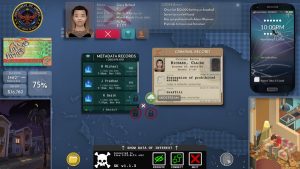 As an employee you are given assignments, and as you complete assignments, you are able to rank up in clearance, giving you access to deeper information. The more information you have, the better your leaks, or the more you can personally gain from the information. You have to fight the uncomfortable feelings of spying on people while trying to gain clearance for your job. You also know that the better you do at your job, the more likely you are to help people. Or if you're evil, the more you can gain.
Need to Know reminds me a lot of a modern-day Papers Please, only not quite as depressing. You have to look carefully at all of the data available to you, but you realize that you can screw up lives for people or even yourself as you play. However, this one is interesting because it does follow a story, and you as a player can choose to play it in different ways.
Look and Theme
The art style is pixel based but isn't exactly retro. You have a user interface that looks like your workstation at the Department of Liberty, and you are able to look at all the data in different screens. The style itself isn't anything too special to look at, but it does seem to work with the game.
Should I Buy Need to Know?
I think I like this game. The storytelling concept with these kinds of puzzle-based morality assignments is interesting. That being said, I think that there are other games like this, like Orwell. And I'm not sure if other games have done the same thing but better. Take a look for yourself. Need to Know is available on Steam for Windows, Mac, and Linux. And for more on indie titles like this,  subscribe to Indie Pearls or follow us on Facebook or Twitter!