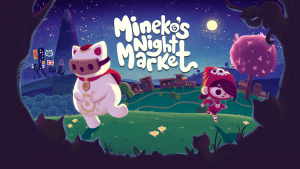 I'm a cat person. Sorry dog people, but it's just how I roll. If you too are a cat person, you might be into this next title. Mineko's Night Market by Meowza Games is in development right now. We had a 2018 release date, but it seems it has now been pushed into 2019. However, the devs are hard at work to get this one ready, and I am excessively excited. Mineko's Night Market is an adorable simulation where you play as a cute little girl on this Japanese island filled with cats. This is a collection and crafting adventure with an adorable art style, and it sounds just weird enough to work. Let's see how it is coming together.
Premise of Mineko's Night Market
Welcome to the quaint island fishing town at the base of Mount Fugu where cats just happen to be everywhere. You play as an adorable girl exploring the world around her while collecting items. Manage quests, meet new people, and complete jobs along the way to uncover town secrets and find new items. Your day to day activities are all in preparation for the weekly night market where you can sell all the things you have worked so hard to collect.
The more you collect and sell, the better the night market is. After you are done selling, you can take your booty into the market yourself where you'll meet different vendors and have a chance to try new and exciting things with a bunch of minigames. The better you do in your sales, the bigger and better the market experience is. You may even attract celebrities or new people to live in the town. There are sixteen different market themes with a stage event where you can perform in the theme. You might have sumo wrestling or karaoke competitions. Each theme and also the performance event is unique and changes every week in a cycle.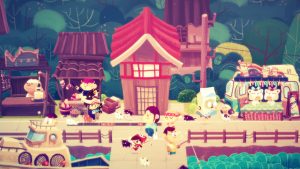 You can choose to play for the best night markets possible, but if you don't have that competitive streak in you, it doesn't diminish from the game. You can also choose to just enjoy the world, find new ways to travel to distant lands and make new friends. But resource and time managing and collecting for the best returns on market night is also an option. How you choose to experience the game is up to you and everyone can experience it differently.
What's with all the cats?
It's a fishing village? I'm not really sure, but you get to ride and race them. They're also super adorable, so why not?
Art style
An amazing art style in a game hypes me up like nothing else. This one is hitting all the marks for me with a beautiful rich color pallet the pops off the screen. The characters are adorably detailed from the town's residents to the cats that roam around. The cartoon paper craft quality of the world reminds me of a storybook, and it continues in every environment and even the UI. The dedication to the art in this game might have something to do with why it is taking so long to release. But honestly, that doesn't bother me in the least.
When does it come out?
We're not sure yet. Mineko's Night Market was recently pushed to 2019, but that's not so far off. We know for certain it will hit Nintendo Switch first, and then  Windows and Mac versions will release soon there after. For now, you can add them to your wishlist on Steam and the Humble Store. Also for more updates, the best place to check is their Twitter page, so follow them on there.
For more updates on in development games you should know about, make sure to subscribe to Indie Pearls.